Inverse problems theme year 2003-2004
Practical information
Helsinki, Finland, 31 May to 5 June 2004
Venue
Plenary talks are given in the Säätytalo building (House of the Estates) in the centre of Helsinki. The address is Snellmaninkatu 9-11, Helsinki.

Parallel session talks will be given in the Tieteiden talo building ("house of sciences") of the Federation of Finnish Learned Societies. The address is Kirkkokatu 6, Helsinki, and it is located a two minutes' walk away from Säätytalo.

Please see the map.

Please refrain from smoking inside at the conference sites.
Programme
On-site registration is from 8.30 to 9.45 on Monday 31 May, in Säätytalo.

Please see the updated programme and abstracts (PDF).

Speakers will have at their disposal an overhead projector, a data projector and either a flip chart or a small blackboard. The data projector can be connected to your laptop. (Please see below for information about the plug.)
Lunch
"Unicafe" university cafeterias offer inexpensive lunches (4-5 €). Some of them are marked on the map and the closer map.

In the centre of Helsinki, Unicafe cafeterias can be found, e.g., in Porthania (enter through main door, take stairs up) and the main building (enter from Fabianinkatu side, go through the lobby to the far right hand corner - slightly harder to find, but has perhaps a nicer looking classical interior).

Tieteiden talo also has a small cafe serving light lunches (salad, soup, sandwiches).

Of course, in the centre of Helsinki there are lots of restaurants where you can have lunch, as well.
Social programme
Monday 31 May: Welcome reception
In Säätytalo after the talks. Refreshments and snacks. Chat with old friends and make new ones!
Thursday 3 June: City hall reception
From 18.00 (6 p.m.) to 19.00 (7 p.m.) at the Old Court House, address Aleksanterinkatu 20. Hosted by the deputy mayor.

You will receive an invitation card at the conference registration desk on Monday. Please bring the card with you and present it at the entrance.
Local transportation
International flights arrive at the Helsinki-Vantaa airport. To get to your hotel from the airport - and back to the airport when you leave - you have basically four options:
Taxis
Finnish Taxis are safe and reliable. They have a yellow sign on the roof, lit when the taxi is free for hire. You can hail a free one on the street, go to a taxi rank or call 0100 0700 (in Helsinki) or 0100 7300 (in Espoo, i.e., Hotel Meripuisto) to order one.

A taxi ride costs of the order of 5 € + 1 €/km.
Public transport
The Helsinki metropolitan area has a rather good and perfectly safe public transport system.

For getting between the conference sites and Hotel Grand Marina, you can take tram number 4 for two stops or just walk (10-15 min).

For getting between the conference sites and Hotel Meripuisto, you can take buses 147 or 150. The end stop of these buses is next to the Kamppi metro (= underground) station, close to a huge construction site (future bus station) - please note that you cannot walk across it. You can also use the metro (there is only one line) and transfer at the Ruoholahti metro station.

You buy single tickets from the bus or tram driver, or for the metro from a ticket machine. Tickets allow unlimited transfer within 60 minutes (or 80 minutes for regional tickets, see below). Tickets are valid on buses, trams, the metro, local trains and the ferry to Suomenlinna.

For understanding the tickets, it helps to know that the metropolitan area consists of four towns: Helsinki, Espoo, Vantaa and Kauniainen. Hotel Meripuisto is located in Espoo. The rest of the conference events and accommodation are in Helsinki. Internal tickets ("sisäinen lippu", for transport within a single town) cost 2 €, and regional tickets ("seutulippu") for the entire metropolitan area 3 €. On a tram, you can also buy a tram ticket which does not allow any transfers, for 1.80 € from the driver, or for 1.50 € from ticket machines on some tram stops.

You can also also get a tourist ticket for unlimited travel during 24, 72 or 120 hours from time of purchase. These tickets are available from ticket machines at Metro stations and some tram stops, as well as the Railway square metro station ticket and information office. In addition, 24 hour tickets can also be purchased from bus drivers. Prices in euros:
| | | | |
| --- | --- | --- | --- |
| Period of validity | 24 h | 72 h | 120 h |
| Regional ticket | 8.50 | 17.00 | 25.50 |
| Internal ticket | 5.40 | 10.80 | 16.20 |
E-mail, computers
You can use the computer classroom of the Department of Mathematics of the University of Helsinki. The classroom is located on the 4th floor at Yliopistonkatu 5 (see map), on your left after you step out of the elevator. Windows computers with web browsers, terminal emulators (ssh and telnet) and an X server (WinaXe) are available. This classroom is open from Mondays to Fridays between 8.00 and 16.00.

Hotel Grand Marina also offers a free Wireless LAN in part of the rooms and lobbies. For more information, please contact the hotel.

Most public libraries also offer networked computers for use for free. The one in the Lasipalatsi building (white two-story building between the railway station and the bus station, address Mannerheimintie 22-24) is recommended for short term visitors. In this building, there are also some other places for public access to the Internet.

The few web cafes in Helsinki include:
Telephones
Finnish mobile phones use the GSM 900/1800 MHz system. You can use most European and Australian and many Asian mobile phones here, but most American ones will not work.

The international dialling code for Finland is 358; if you use it in conjuction with a telephone number beginning with a zero, the initial zero should be omitted. For making an international call from Finland, dial 00 followed by the country code and the rest of the telephone number.

The area code for Helsinki is 9. For example, to reach HUT, you would dial 4511 from a local telephone, 09 4511 from other parts of Finland or a mobile phone, and +358 9 4511 from abroad or a mobile phone.
Electricity
The Finnish A/C voltage is 230 V. The plug has two round pins of diameter about 0.5 cm, about 1.9 cm apart.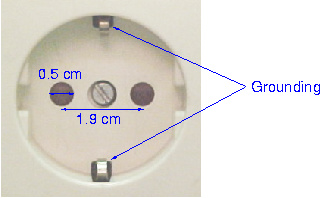 Weather
Daily maximum temperatures in Helsinki at the beginning of June are usually somewhere between 15 °C and 23 °C (59 °F - 73 °F). Night temperatures are about 5-10 °C (9-18 °F) lower.

The Finnish Meteorological Institute provides a 5 day online forecast as well as more general information about the Finnish climate.
Money
The currency in Finland is the euro (€). One euro is worth approx. 1.2 US $.

Most businesses accept Mastercard and Visa, and most bigger ones also American Express and Diners Club. There are many ATM's, most of which carry an orange sign saying "otto".
Further information
---